Dedy Irawan, ST, MT
Assistant Professor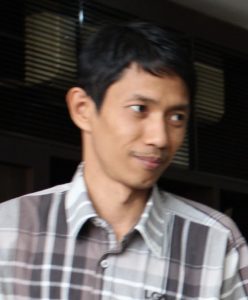 Education Example
M.Sc., Petroleum Engineering, Bandung Institute of Technology, Indonesia, 2007
B.S., Petroleum Engineering, Bandung Institute of Technology, Indonesia, 2001
Principal Publications
Promediaz, A., Irmawati, N., Hendrawan, L., Irawan, D. : "Sorted Vaporization For Surface Extracting Buton Natural Asphaltene As Unconventional Hydrocarbon Resources" for publication in Australian Multi Cultural Conference, Bangkok, Thailand, Mei 2012.
Lie, H.S., Irawan, D., Abdassah, D. : "Performance Based Monitoring for Induce Fracture Water flooding" for publication in Proceeding Indonesia Petroleum Association Conference, Jakarta, Mei 2012.
Saputra, V., Irawan, D., Ariadji, T. : "Analisis Data Water Oil Ratio untuk Memprediksi Nilai Permeabilitas Vertikal Terhadap Permeabilitas Horisontal" for publication in Simposium Nasional IATMI 2009, Bandung, Desember 2009.
Abdassah, D., Irawan, D. : "Oil and Gas Reserves and its Technology to Fulfill Indonesia's Production in 2025" for publication in Seminar Nasional Dies Emas ITB, Bandung, Maret 2009.
Sitaresmi, R., Irawan, D., Marhaendrajana, T., Abdassah, D. : "Generating the Dynamic Characteristics and Predicting Techniques for Coal Bed Methane (CBM) Production using Field Performance Data" for publication in IndoCBM 2008.